Monday, February 28, 2011
Hey guys, i just set up a new blog on blogspot. Well, its a lookbook blog for diya and pretty much everything I post in there is about her and her style. I decided to keep this blog open for now (until i have the kerajinan to copy all the entries and move to blogspot or whatever). Thanks for those who left lovely comments. :)
So I'll see you guys in my (our) new blog?
www.studiodiya.blogspot.com
please link us and spread the words around :) thanks!
Posted at 08:44 pm by
tun_fatimah
Monday, November 22, 2010
Remember my post a while back about learning how to sew? Well, i couldnt join the council sewing classes because they have already started and I wasnt able to join half way through. :( But I was really elated when someone here offered to teach me how to sew. She's Mary, a local woman married to a singaporean who is a brilliant seamstress. She sews all her life and decided to retire from office work early so she can continue her long dream to sew. Best kan? She sews costumes, wedding dresses, children dungarees, curtains, you name it, i'm sure she's done it. Anyways, since its a 'free class' i'm not expecting her to have the time to teach me that frequent;y. It all depends on when she's free to do it. But hey, I think i will be more than happy if I could learn to operate a sewing machine! :p
anyways, my dad is coming for a visit in 2 weeks!! *pomspoms* Jangan jeles adek2.. :P Mom wont be coming tho coz dad said quota dah penuh :p Cheeky :) but dont worry mom coz dad has a surprise for you when he comes back theeeee~ My dad is so sweet to my mom okay. If ubie is half as sweet when he reached dad's age, i think i'd be really happy. :p
BTW i was thinking of moving to blogspot. No particular reason really. Just thought that I'd close this blog and start fresh (again?) :p Well, its part of a new year spirit. If you'd like to continue reading my new blog do drop me a message/comment/email. I'd probably have this blog deleted in few weeks time. Thanks all for reading and visiting this space peeps. Here's to the new year and a new blog :)
Posted at 05:36 pm by
tun_fatimah
Wednesday, November 17, 2010
First of all, Happy Eid-Adha everyone. We had a simple celebration at a friend's house yesterday, which involves karipap, masak lodeh and nasi impit, among others. None were made by me (un)fortunately. All the food was soo nice, i think i must have gained few pounds :p
Anyways, I decided to write my literature chapter instead of adding another findings chapter (well, at least for now that is). After talking to Oyis the other day, I decided to take her advice and just proceed with my lit review, before going back to decide whether I need the additional chapter. Kesian oyis, dia telefon I nak mengadu her dilemma, tapi end up dia pulak yg kena dengar my problem :p Ampun!!
So, what have i been up to lately (besides trying to cram Foucault)? Why shopping of course? Erk. Okay, before every shopping entry mestilah didahului dengan kata-kata justifications right? So this is mine:
I'm going home for good in about 6 months (insyallah). So I am taking the opportunity to purchase home stuff and things I need for work purpose. I only started to buy the little stuff, mainly my own personal items, like uhh, shoes and pants, and blazers and did I mention shoes? :P Don't worry, because I only spend on investment key pieces and I only buy those ridiculously bargain priced items. I am that cheap remember? LOL.
But seriously though.. I spent like less than £3 per brand new shoes (not including postage). Cheap lah kann? Lets see what I got:


A navy stripe jacket from New Look at £0.99


A brown H&M jacket at £0.99


Erk, sorry gambar terbalik, another jacket from New Look also at £0.99


A pink coudroy jacket also £0.99


Pink court shoe at £1.04

Leather cleated shoe for £3.99


Red wedges at 3.99 quids
Murss murss kan?? So where did I get to buy these ridiculously cheap items? I'll share you my secret,
Ebay!
Tak percaya murah?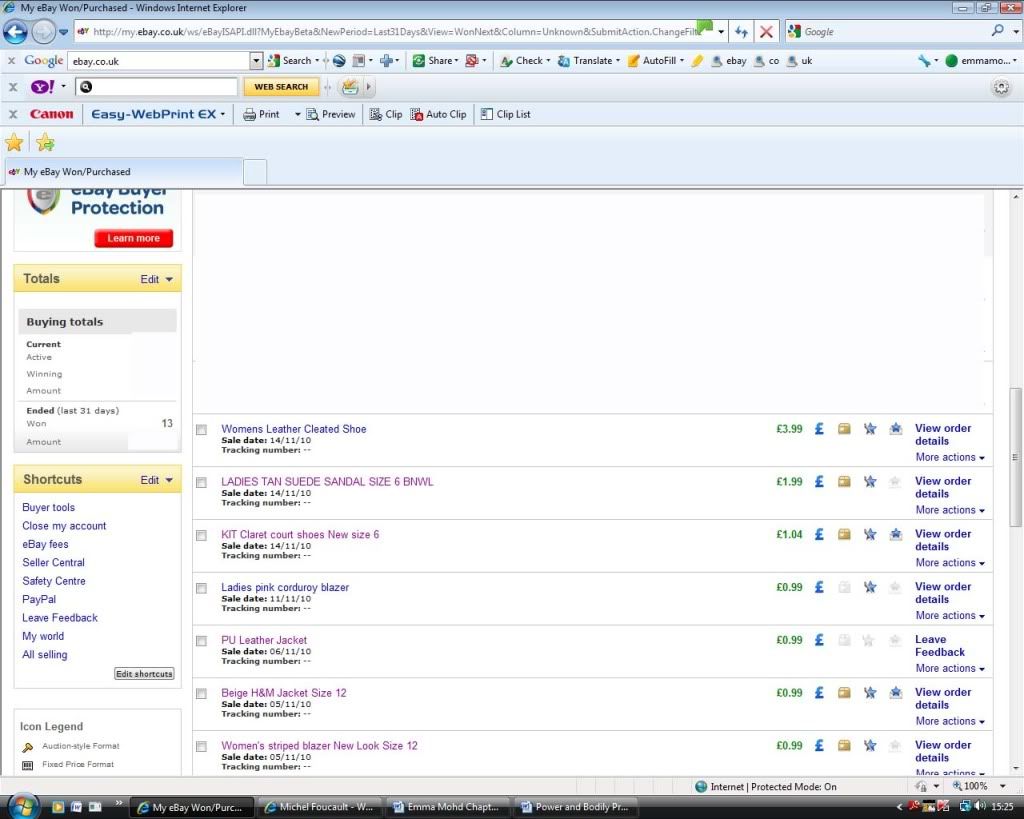 Ooops kantoi plak size baju makk. :0
Well, the jackets are used but the shoes are absolutely NEW. The thing is, these shoes are sold by people who bought but never worn them. Yes, we all have done some impuls shopping havent we? Anyways, one woman's junk is another's treasure so dengan konsep ini dalam sistem ebay, saya telah meraih kasut kasut yg gorjes untuk dipakai semasa kerja. :p
And the best thing is, I didnt spent a single penny to pay for all these purchases becuase I myself terlibat dalam menjual barang2 impuls buy myself! I sold 3 bags and a wallet (liz claiborne, guess, sisley) and got roughly £60 bersih! So i only used that money to pay for my purchases :)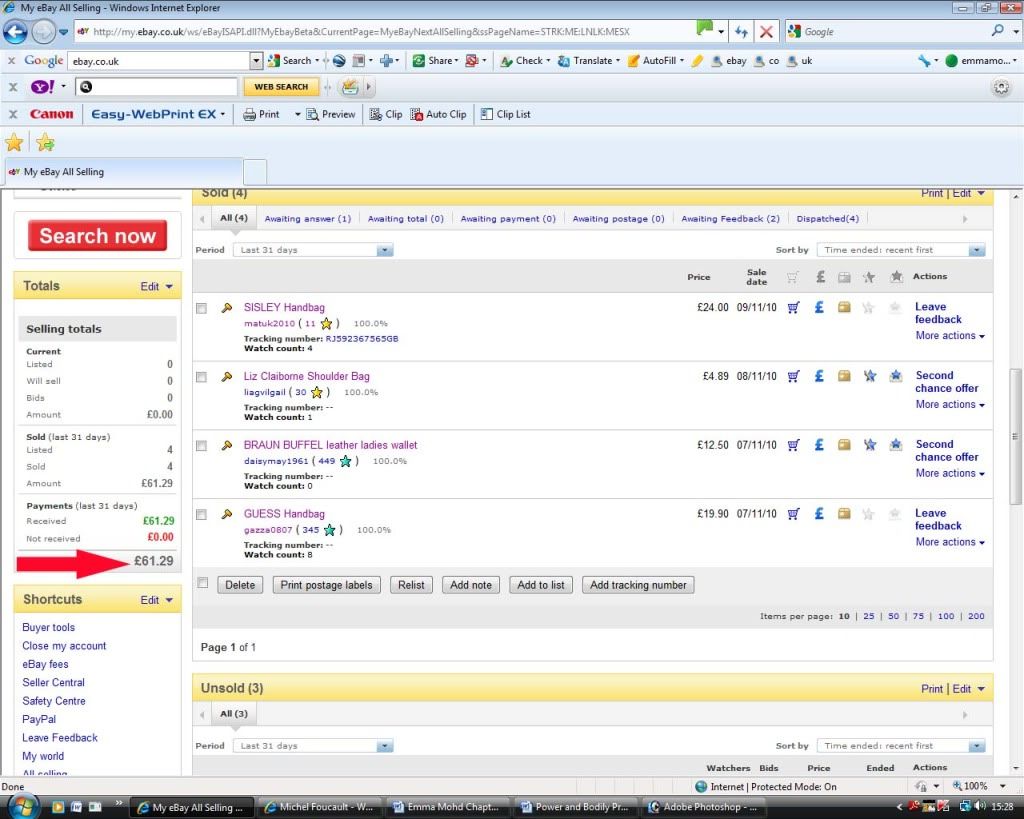 I'm also planning to auction some of my clothes n things that has been lying around unused, like my hair straightener n curling tong to raise money for future bids on shoes. Enterprising n recycling! hehe..
These are some of the shoes in my watch list right now.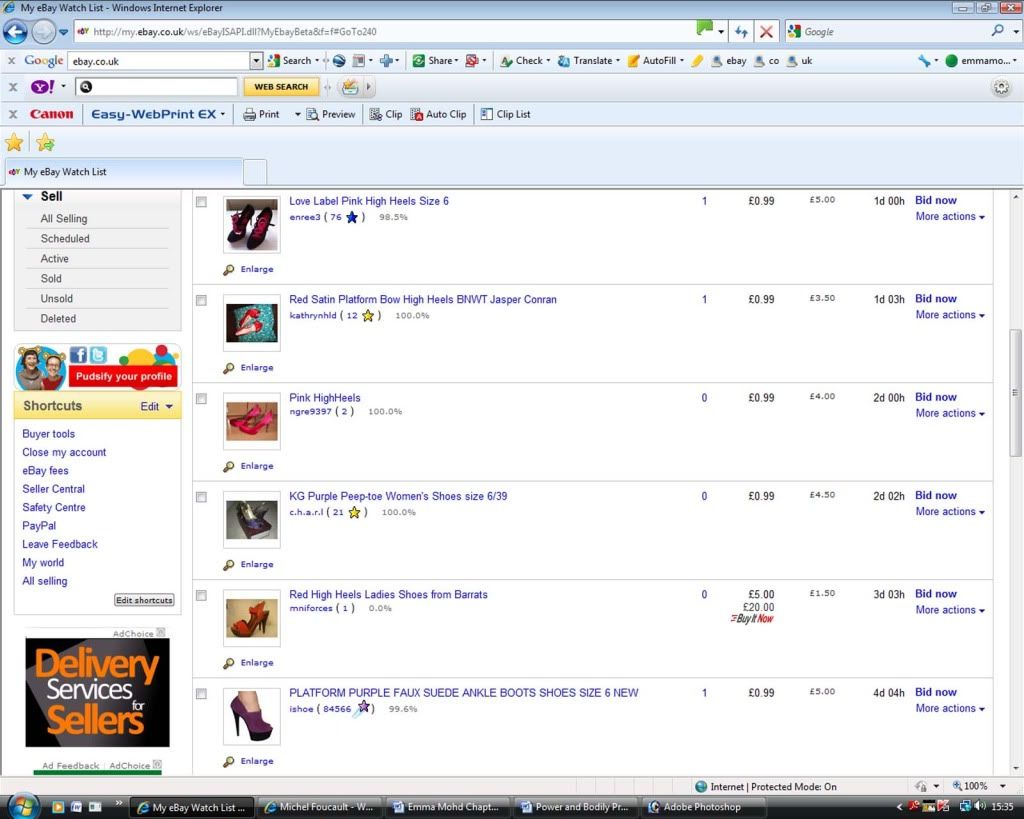 BTW ebay also is available worldwide so why not give it a try. My bags received bids from as far as Bahrain. One of them won by a bidder from Belarus. You never know, how much money you can make and you might be lucky with the bidding too! :)
Posted at 07:24 pm by
tun_fatimah
Wednesday, November 10, 2010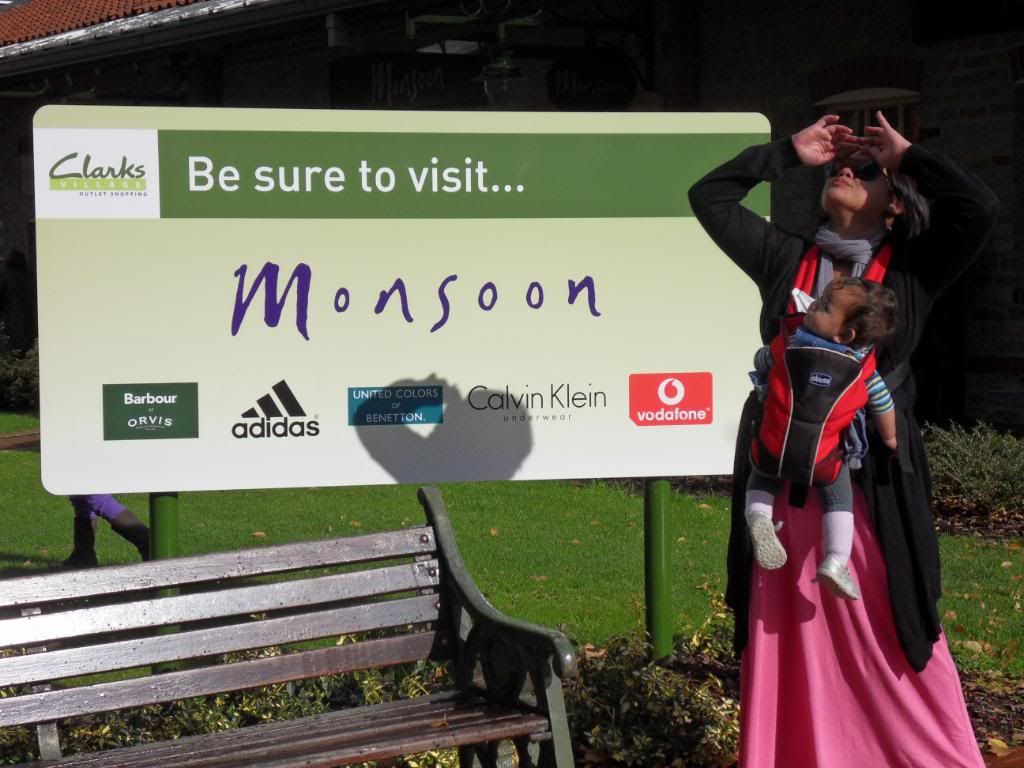 I've typed quite a lot just now, then tiba2 hilang okei. T_T
Don't u just hate it when that happens? Aaahh sakit hati! Baek tidur. Better luck tomorrow.
I'll leave you with this picture of Icha observing Pak Arab tengah masak roti naan. :P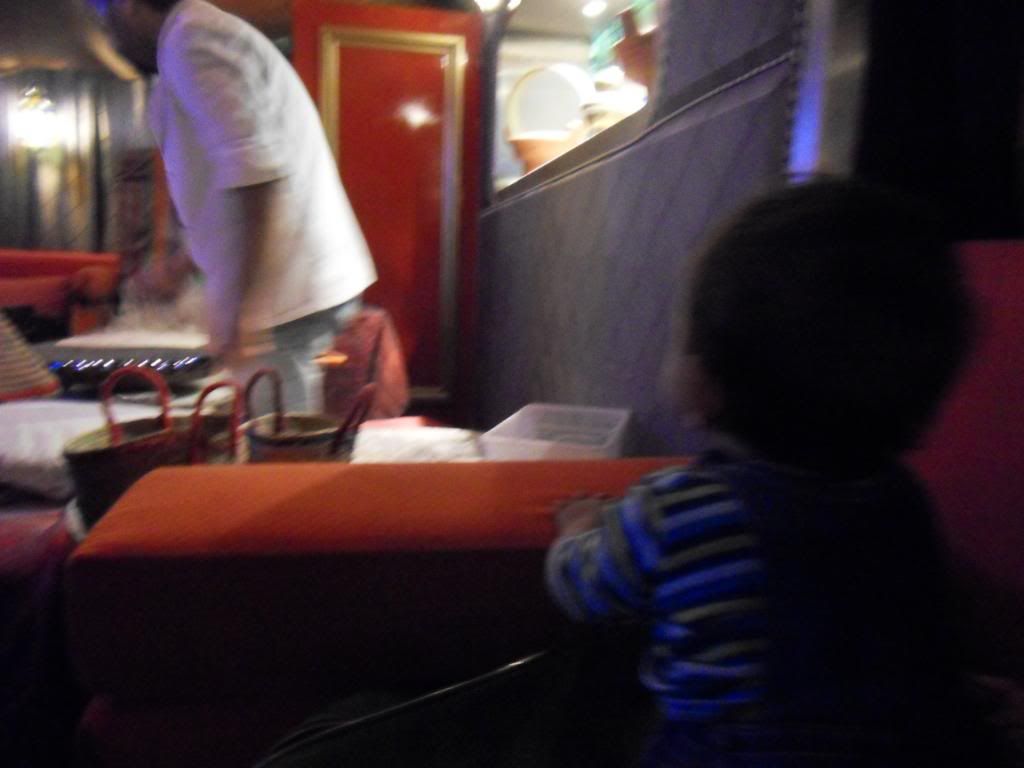 Posted at 08:37 pm by
tun_fatimah
Tuesday, November 09, 2010
yeah yeah i know.
by now you could probably tell that my silence means that I'm racing for a deadline. Went overboard as usual, but i think i'm getting better everytime. :p So I've submitted another findings chapter. I know I said this would be my last findings chapter but deep down i'm itching to write one more. More work but deep down rasa ralat if tak tulis pasal topik ni. I dunno. Should I?
After submitting the chapter, I had a PT meeting with Mrs Barnett (pronounced as Bonnet - matilah slang english*) discussing Diya's progress at school. Overall, she is very pleased with diya's development and her behaviour in school. She scored high in speech, listening, attention, reading, mathematics, spatial recognition, EQ and computer. *clap clap* she however needs to develop hand coordination for writing (anak makk pegang pensel genggam lima jari uols) and mathematical language (this does not have to do with math /numbers, but in relations to logics and problem solving method). Baeklah cikgu! :)
This is totally unrelated to the PT meeting, but I somehow have this feeling that diya is inclined towards arts like her dad n me. Just my personal observation really. Altho, she sis said that she wanted to be a fashion designer when she grows up.:p
Anyways, after PT meeting I went out to join my fren's viva celebation.Semangat ok everytime someone pass their viva.Lagi-lagi if they are in your batch. memanglah rasa berkobar2 nak finish. :)
So thats my day, jugling between phd, motherhood and social life, So what is new?
Okeilah.. Need to go now. i'll find some other time to write.
Posted at 08:38 pm by
tun_fatimah
Thursday, October 21, 2010
A lot of people been pointing out how different diya and icha looks are. My family always say that diya looks more like ubie and icha looks more like me. Funnily enough, my friends here all say the opposite. So I searched for diya's old picture and realised that both of them actually do not look like me or ubie, they look like each other really. These are some pictures of them at different age. You be the judge now, and tell me what you think?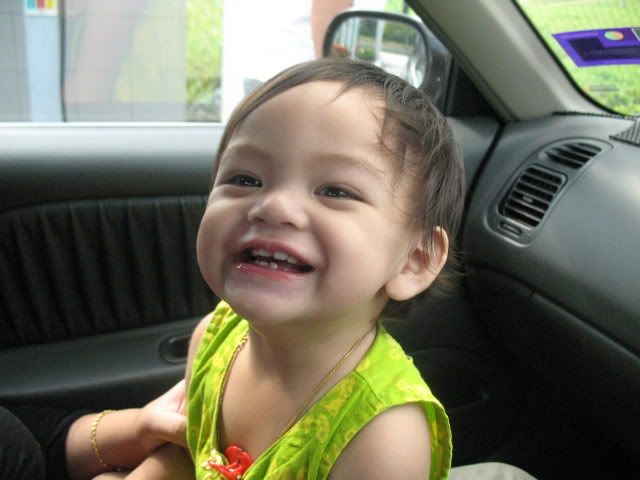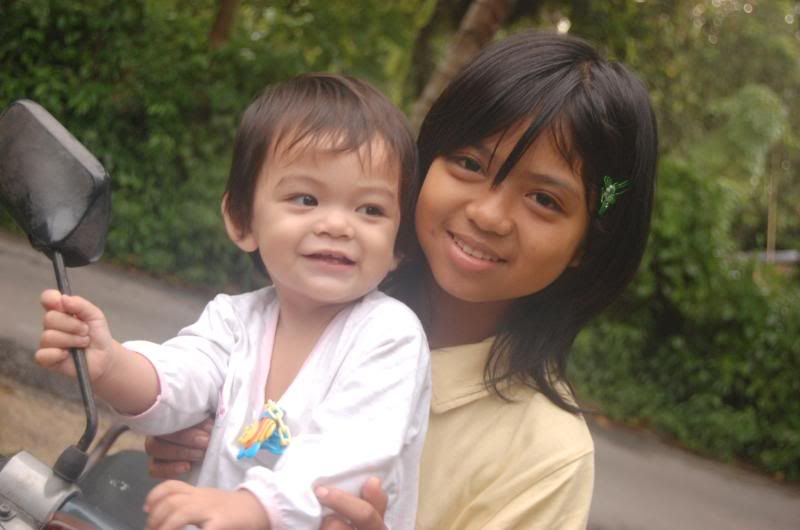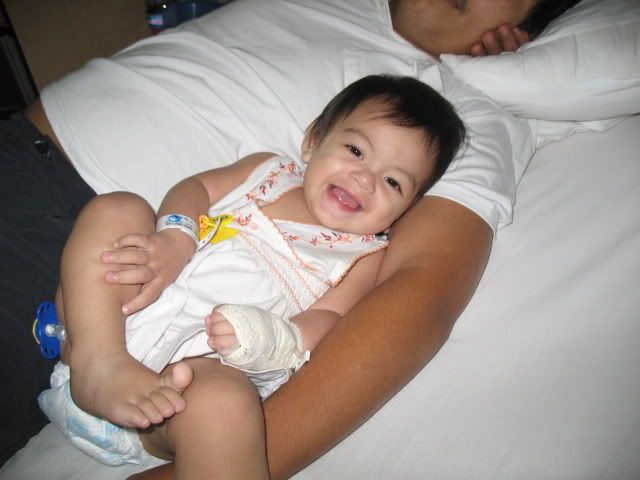 Lets see if you can tell them apart?
Posted at 09:21 am by
tun_fatimah
Mom: What do you in class after the bell rings?
Diya: We sat on the floor and the teacher will take the register.
Mom: So what do you say when the teacher calls your name?
Diya: We say "Ammah"!
Mom: Ammah? *confused* Dont you mean "I'm here"?
Diya: No.. we say Ammahhh... (slightly annoyed)
Mom: Are you sure?
Diya: Yes mom. Ammah means I'm here in WELSH!
Mom: T_T

This is what happens when children know more languages than their parents
Posted at 09:11 am by
tun_fatimah
Wednesday, October 20, 2010
My facebook status today : I am inspired.
By what, you ask?
By people who writes so elegantly and so profound yet so readable - like her
By people who defies mainstream, yet so fashion forward at the same time - like them
By people who love what they do and do it so brilliantly - like her and her label
These are just some of many people I came across online this past week who reminds me how beautiful Islam is.
I hope you are inspired too. :)
ps: I'm inspired with their fashion sense. Understated, modest yet chic.
pss: BTW they have the best hijab style tutorial - check it out!
Posted at 04:03 pm by
tun_fatimah
Thursday, October 07, 2010
Yesterday I had my usual monthly supervision meeting with J. Since it was such a sunny day, in a rare Autumn month, J decided that we should take our meeting outdoors and enjoy the lovely sun. So we decided to meet at a cafe by the river at B*ute Park called the sum*me*rhou*se.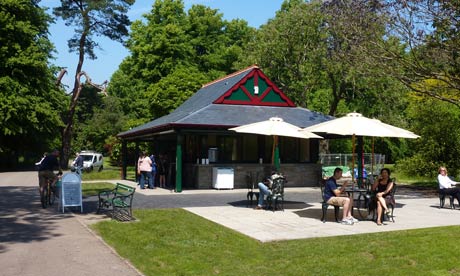 We had a good discussion over coffee and soup about my previous chapter and the current one I'm writing. J told me that she had given my chapter to her maternity-and-breastfeeding-guru mom to read! I felt really honoured yet EMBARRASED at the same time that she had to read my busuk-ly written piece! *pengsan* My muka instantly turn red and almost sick to my stomach sebab ke*malu*an! Like honestly, I myself think my chapter is load of crap, and for her (yang tahap2 dewa) ni membacanya..... oh god malunya! I think I finally understood and experience the humility of doing a PhD, just like a wise collegue once told me about. Nevertheless, J assured me that Sheila only had good things to say about my chapter and has even written some notes and constructive comments for me to review. She even suggested some readings, how nice of her! J told me that they debated some stuff that I argued / put forward in the chapter, which to me meant that some stuff I wrote was at least relevant (although not neccessarily brilliant) and that made me feel a little better. But still, i think I would still lari menyorok bawah meja if I ever see her in person. :p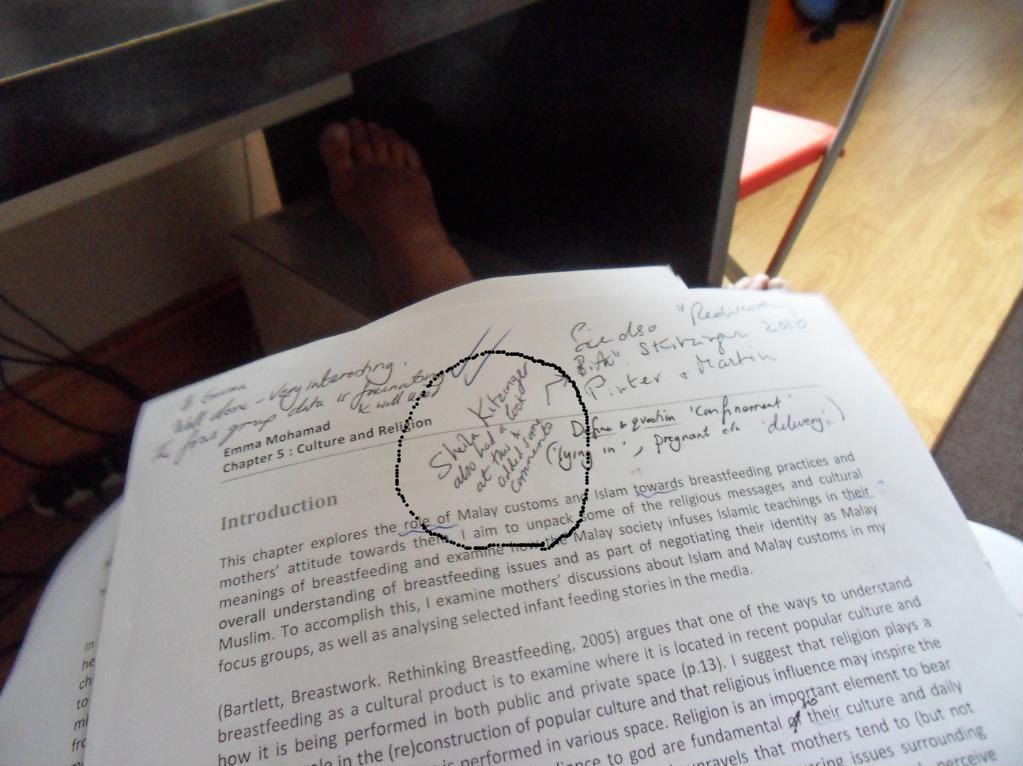 oh well... I asked for an extension for my dateline considering the time lost stressing about my visa thingy, and she gladly consented to *jumping joy*. I honestly envy + tabik spring to my friends who can write laju n well. Coz i think thats one of my weakness actually. My phd friends here usually take less than 6 months to write up their thesis. I know that i shoudnt compare because they are mat salleh n english is their mother tounge so it wud be easier for them. But i honestly cant help myself but to. haihh..one of my friend who is in the same batch as me is currently waiting 4 his viva which is in Nov, jealous! He's the first in my batch to submit n i hope to be the 2nd one. This year ramai yg submit (my seniors, mostly). I hope that i manage to viva in time before graduation 2011, so i can join them masa convo. best sket ambik gambar ramai2 kan? Visualise... visualise...! :p
Tp sambil berangan tu, mari makan nasi kerabu. nyeh nyeh..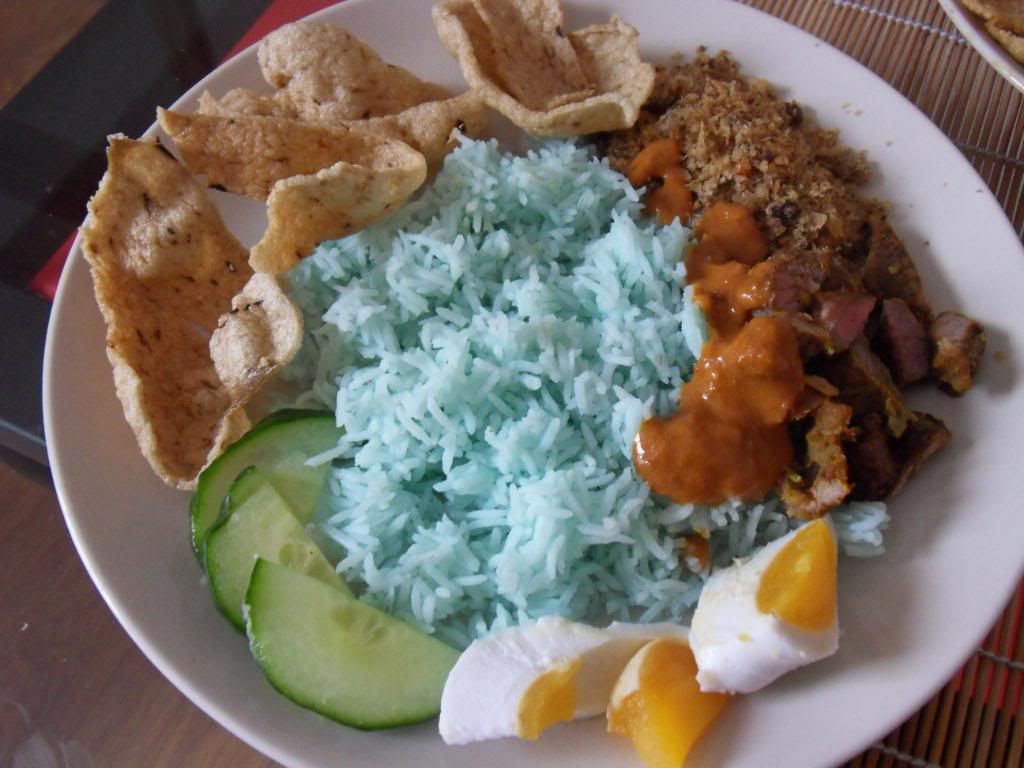 First time buat nih.. tepuk tangan sket..LOL
Posted at 12:05 pm by
tun_fatimah
Tuesday, October 05, 2010
I have decided to take Diya off from school dinners because it was psychologically affecting her at school. Firstly, she dread going to school (which is odd because she used to love going to school and she has been to nursery since she was a toddler). She even cried one morning in front of her teachers when ubie drop her off - Totally not her. Then, there was the 'accidents' which happened 2 times in one week (again, so not her). So both ubie and I decided to best take her off school dinners and put her on sandwich (home packed lunch). Turns out it was the school dinners that was bothering her because she now resume to her bubbly self and looking forward to school everyday - but only in one condition - that I told her teacher she would have sandwich and not school dinners anymore. She actually reminded me every morning of this (punya lah tak suka school dinners) Oh well.. terpaksalah makk bangun pagi to prepare her lunch ye (which now includes some greens and fruits - we negotiated this or she'll be sent back to school dinners) :p
Last night I asked her about what was upseting her before and although she didnt really said it directly, I think she was really upset about the food.
Anyways, this was some of the stuff we talked about.
Mom: Was there anything upsetting at school before?
Diya: Yes.
Mom: What was it?
Diya: The dinner lady.
Mom: What did she do?
Diya: She shouts a lot.
Mom: What did she shout about?
Diya: She said...*pause* Go find a chair!!
Mom: oohh..but you are now sitting in the sandwich room right? (sandwich room is for all students who bring lunch boxes) So there is no dinner lady anymore right?
Diya: There is one. She wears blue.oh and mom, Layla hates me now.
Mom: How do you know that?
Diya: She said so. She called me Nasty mouse!
Mom: oh dear, that's not very nice of her to call you that.
Diya: Yes. Then I called her nasty Beast!
Mom: *nak tahan tergelak* but thats not nice either.
Diya: If she hates me then I hate her too. She's friends with Bobby now. And I'm friends with Sunny.
Mom: Allright, but its not nice to call people names okay. And we should be friends with everybody.
Diya: But she hates me! She told me that. :(
Aiyooo.. doesnt it reminds you masa kecik2, bila merajuk je cakap tak mau kawan. LOL! But here lebih ganas ye.. terus cakap I hate you n name calling. haha.. *pengsan*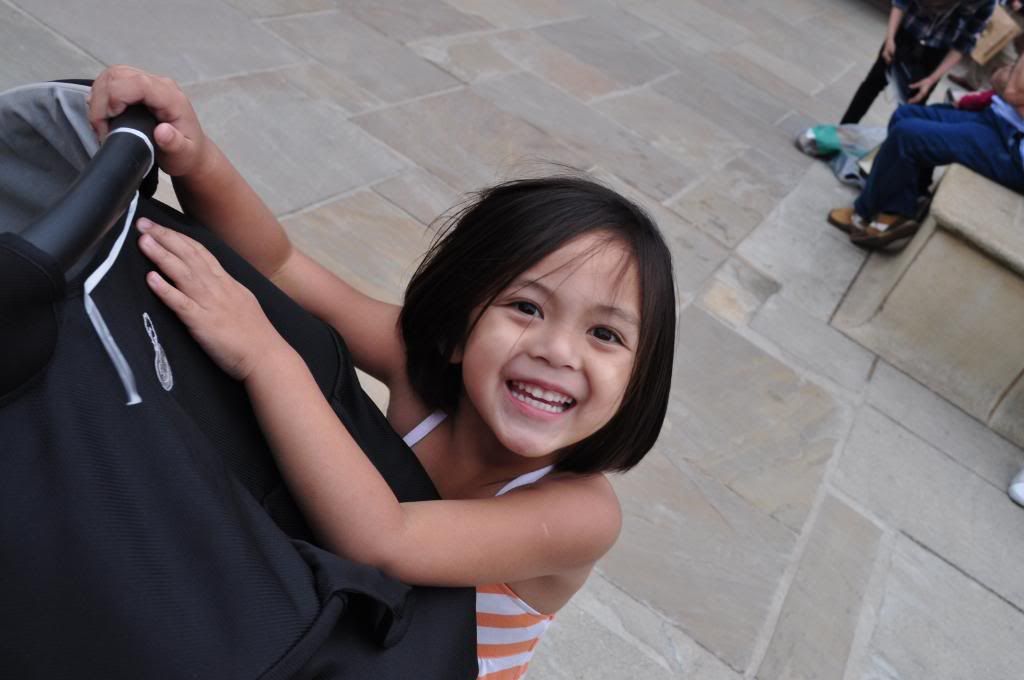 Budak yang takut dinner lady sampai terkencing dlm seluar tapi still tak mao makan sayur :p
Posted at 03:59 pm by
tun_fatimah